Cookie & Gizmo
Cookie and Gizmo are both cats who have needed homes. Cookie is about ten years old. Gizmos age is unknown, but we think she is probably about the same age. Cookie belonged to my Grandma, who died in May 2003. Gizmo belonged to a friend of Claires', who moved and couldn't take her with him.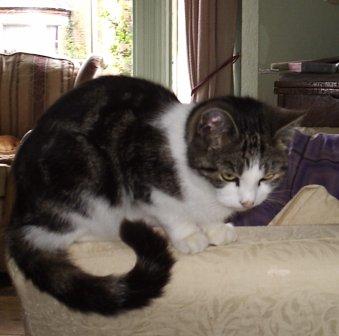 A pretty picture of Cookie
Cookie
Cookie is a gorgeous little tabby and white cat. She is very affectionate, but has had a bit of a hard time adjusting to living at my family's home. She doesn't get on well with the other cats. Peaky is trying.
Gizmo
Gizmo is black and semi long haired. She has been living there since 2002 and also doesn't get on too well with the other cats, she has got a lot better though. She spends a lot of time at the house next door but one, where a load of students reside.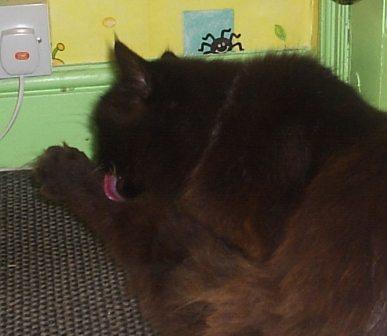 This is Gizmo, look at that tongue!