Home Page
Grey & Charlie
Grey & Charlie are both cats I brought as a kittens. Grey is Fluffy's brother and is about 6 years old. Charlie is their surrogate sister and is about 5.
Grey
Grey is shorthaired and, well, Grey! He is a bit naughty, and has this very bad habit of peeing up things, especially if they are new (my new shoes received this treatment!) He spends most of his time on my sister Claire's bed.
Charlie
Charlie is very small and white with random tabby patches. She has a high pitched wailing mew which makes her sound like she's in pain! She spends a lot of time on my brothers Liam's bed.
Here is Grey in a box far too small for him!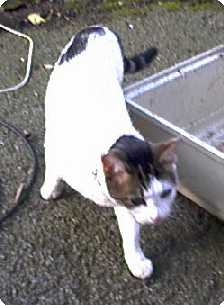 Charlie Chihuahua!!!