Peaky & Joby
Peaky and Joby are the eldest cats at my family's house. Peaky is about 8 and Joby is about 7. They even had a litter of kittens together !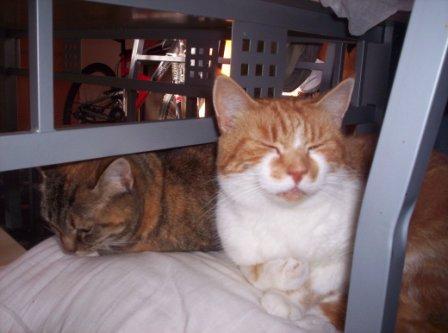 Peaky
Peaky is a largish ginger and white shorthair. He is very affectionate to people and cats alike. He certainly enjoys licking the faces of other cats.
He doesn't make much noise and is usually very docile.
Joby
Joby is a small gingery tabby shorthair. She loves being stroked, but does not like to be picked up at all. She has quite a high pitched mew, but sometimes she uses it too much and it goes croaky!
In 2004 her tail got broken and about two thirds of it fell off, leaving her with a somewhat amusing stump!
Peaky was born at the house from one of our now deceased cats, Tibby. I brought Joby when she was about 8 weeks old.
Joby doesn't look too happy.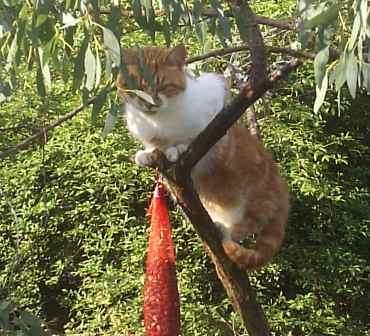 Peaky in a tree